I recently got round to cleaning the roof on my Gatcombe myself and noticed a hole in the riser just before the rear skylight over the Bathroom.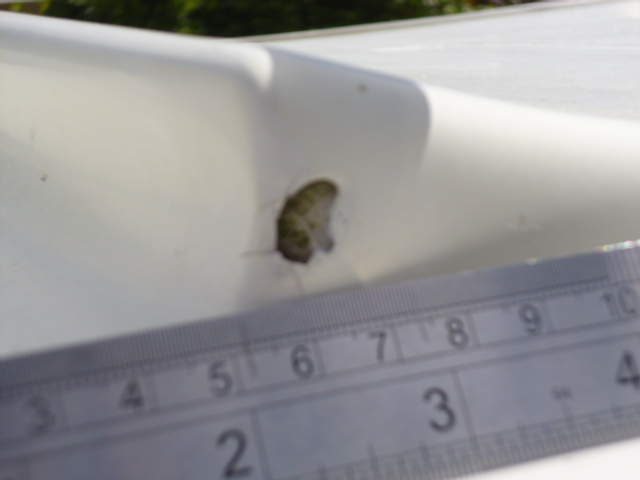 Can anyone recommend how and what I should use to repair this.
Back in the day when I used to repair dents in cars etc, I used to use plastic padding but no longer know what is best for this sort of repair.
Apart from repair materials any suggestions for paint(colour, type)
Thanks
New Member









Posts

: 3


Joined

: 2016-01-16


Member Age

: 65


Location

: Yateley


Auto-Sleeper

: Gatcombe


Vehicle Year

: 2000



I have mixed white paint with filler in the past to fill a hole where the solar panel cable had come through and it was ok
Moderator









Posts

: 7175


Joined

: 2011-03-04


Member Age

: 72


Location

: Warrington


Auto-Sleeper

: Warwick Duo


Vehicle Year

: 2016



Hi Roger
Thanks for the reply. What sort of filler, was it standard car body filler?. I am not sure what is best to use for a GRP fix.

Thanks
Nigel
New Member









Posts

: 3


Joined

: 2016-01-16


Member Age

: 65


Location

: Yateley


Auto-Sleeper

: Gatcombe


Vehicle Year

: 2000



Donator









Posts

: 1931


Joined

: 2014-06-24


Member Age

: 47


Location

: NORTH HERTS


Auto-Sleeper

: MB Gloucester


Vehicle Year

: 2011



Agree with Peter that's what I used
Moderator









Posts

: 7175


Joined

: 2011-03-04


Member Age

: 72


Location

: Warrington


Auto-Sleeper

: Warwick Duo


Vehicle Year

: 2016



That's great both of you, I will get some and use that .
Many Thanks

Nigel
New Member









Posts

: 3


Joined

: 2016-01-16


Member Age

: 65


Location

: Yateley


Auto-Sleeper

: Gatcombe


Vehicle Year

: 2000



---
Permissions in this forum:
You
cannot
reply to topics in this forum